380HP 15M3 NEW BRAND COMPRESSIONAL FRANKUN GARBAGE TRUCK 6x4
Model

FR003 380HP

Year of manufacture

2019

Drive type

6x4

Engine model

WD12.380E32

Engine power

380 HP

Gear box

10JSD160

G.V.W

25000

Tire size

12.00R20

Outside dimension

9695*2500/3360mm

Wheel base

4125+1350mm

Capacity

15m3

Packing volume

1.5m3

Hydraulic system
compression

20Mpa

Period

≤25s

Unload period

≤45s

Operation

Automatic electric

Collection

Manual

Tanker thickness

≥6mm

Hydraulic system

Cylinder stronger

Truck tail

Higher and stronger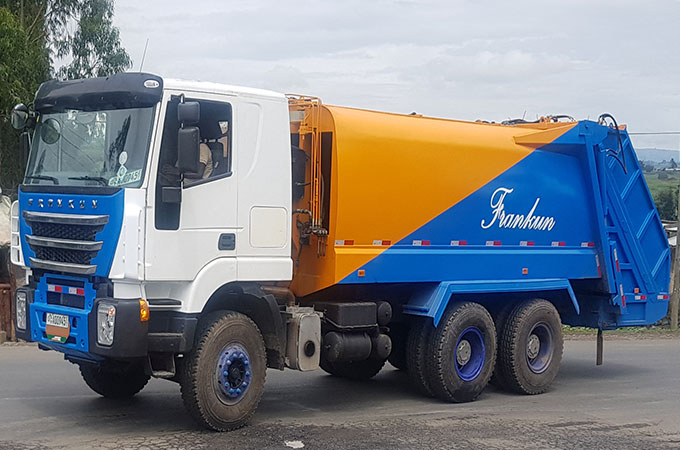 Body is Made up of garbage can, sewage tank, filler, scraper, Dozer's Multiple directional valves, hydraulic systems, device for hanging barrel and other components. Garbage can's structural for the first rectangular and rear arc- box.
Optional hopper door and rear bin lifting mechanism. Bilateral 6-cylinder hydraulic power system Has the function of automatic compression and creep compression, high compression ratio, automatic loading capacity, sealing well. Compression type garbage truck for whole sealing type, the sewage directly into the waste in the process of compression, completely solve the secondary transportation, key parts imported components. with the bucket hoisting frame body material: carbon steel, internal adopt epoxy anticorrosive processing.
Dump function, hydraulic operation, easy to dumpP Seal form are totally enclosed, on the flip, on a slide to prevent Secondary pollution.